Coming to an F99th TS near you: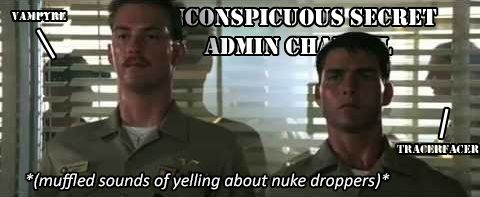 That's not to say I expect further nuke drops any time soon, but I'm a realist.. The good news is when it does we'll have this guy Vampyre in the administration to help us deal with it.
Vampyre's been with us from the beginning of F99th and a bit before that, he's one of our best pilots in a multitude of DCS modules, and he worked on actual Tomcats (and Super Hornets, but we know which "super" the Navy should've gone with). And of course it's universally understood what a stand up guy he is. Vampyre was always someone whose word carried a lot of weight around here, but now it's my sincere honor to officially welcome him in to the F99th administration.
Outside of the handful of us that put together F99th I imagine there's not much clarity on exactly what it takes to become an admin or what it entails. We defined it back then amongst ourselves but I don't think we included it in any of our philosophical literature tucked away on the main page. The administration is a reflection of the rest of F99th, we're all equal to each other but we have the added fun of managing and making decisions to steer the development of F99th. We work together to decide what to do and how to go about doing it. On more divisive issues we might take a vote on how to proceed, but usually we can go about the business knowing there's a consensus. As far as the different responsibilities each of us has, it's up to us individually to decide what we take on. The one thing we all have in common is that when a decision needs to be made we put our heads together and try to come up with the best answer we can. To be considered for joining the administration we need to have 100% confidence in someone and it requires the sign off of everyone that's already in it.
Vampyre will be the first person to join the administration since Tracer, Mata, Runny, Gabe, and myself became the founding admin members, so for those of you who would one day like to join in the leadership of F99th, that's the standard we're looking for: 2 and a bit years of hauling CTLD crates, posting high quality airshow pictures, and sharing awesome stories from your days in the US Navy. Or something of equal or greater value.
But in all seriousness, Vampyre's a helluva guy and I'm sure he'll help us to remain a helluva group. Please join us in welcoming him to the helm of the ship!